Living in a small apartment with limited closet space can make it difficult to put everything away in its rightful place. With a variety of cabinets, drawers, and shelving units to choose from, IKEA offers endless possibilities. Below is a list of our favorite storage solutions from IKEA that might just be the fix to your problem.
The STOCKHOLM sideboard is a stylish piece of furniture in a warm walnut finish with clean lines and streamlined look, making this a versatile design that will look good in any living room. With generous storage inside and on top, the distinctive grain pattern in the walnut veneer gives each piece of furniture a unique character.
The FJALKINGE shelf unit is versatile at handling any storage problem one might encounter—from kitchen, to office, to living room, to closet. The minimalist design and sleek lines of this shelf unit styles effortlessly with other furniture.
The NORDKISA open wardrobe is inspired by classic Scandinavian furniture design with clean lines and an airy expression, doubling as both a space divider and storage for your clothes and belongings.
The SKUBB collection is perfect for additional clothes storage. We like using the SKUBB organizer to create shelving in a closet for folding away sweaters and jeans. The SKUBB storage case is perfect for under the bed seasonal storage. Utilize the SKUBB set of boxes to organize accessories like belts, scarves, and gloves.
The RUDSTA display cabinet is the perfect solution for storing special items that you want to keep on display whilst protected from dust. Made from durable powder-coated steel and tempered glass.
The MULIG clothes rack is a cost-effective solution for those who lack proper closet space. Great in the entryway to store coats or in the bedroom for extra hanging room.
The BESTA sideboard combination gives you plenty of space to store things and a surface to create an attractive display – or to unload serving dishes while you eat. Customize to suit your decor with endless door and leg options.
The KUGGIS collection is a great option for storage in the living room or home office. Perfect for storing folders, binders, and notepads.
Personalize this shelf unit by sanding and or painting to freshen up its look. Made from untreated solid aspen wood and powder coated metal, this unit provides ample storage and fits in any room—from office, to hallway, to living room, to bedroom.
It is estimated that every five seconds, one BILLY bookcase is sold somewhere in the world. Storing anything from books to shoes to everything in between. Available in three different finishes with adjustable shelves that can be arranged according to your needs.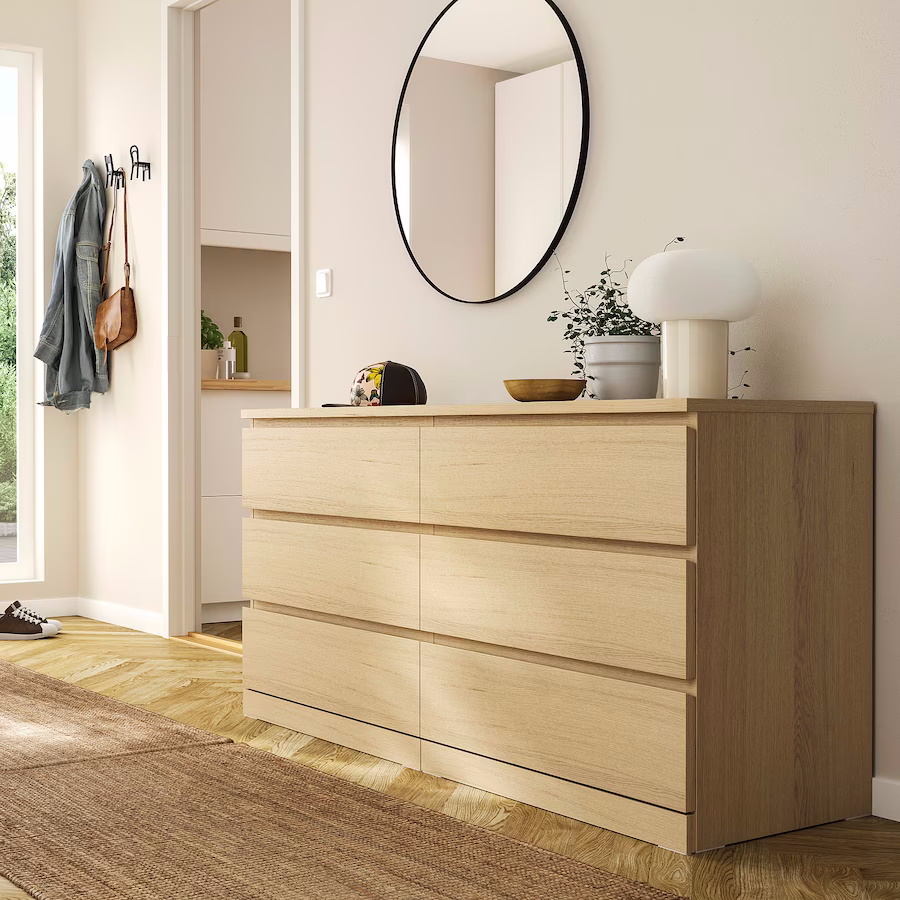 The MALM dresser's minimalist design and clean lines fit right in, in the bedroom or wherever you place it. Smooth-running drawers and available in four different finishes. A wide chest of drawers gives you plenty of storage space as well as room for lamps or other items you want to display on top.
A lightweight, durable cabinet in durable metal that fits almost anywhere – in the living room or a home office to a hallway or a bedroom. Tall legs make cleaning easier, and lock your valued possessions inside with the included key.
The BJÖRKSNÄS collection has its roots in Scandinavian craftsmanship tradition. Classic and freestanding in durable natural materials with nice details and proportions that make them fit in many rooms. Made of solid birch wood with leather pulls, giving this chest a chic boho vibe.